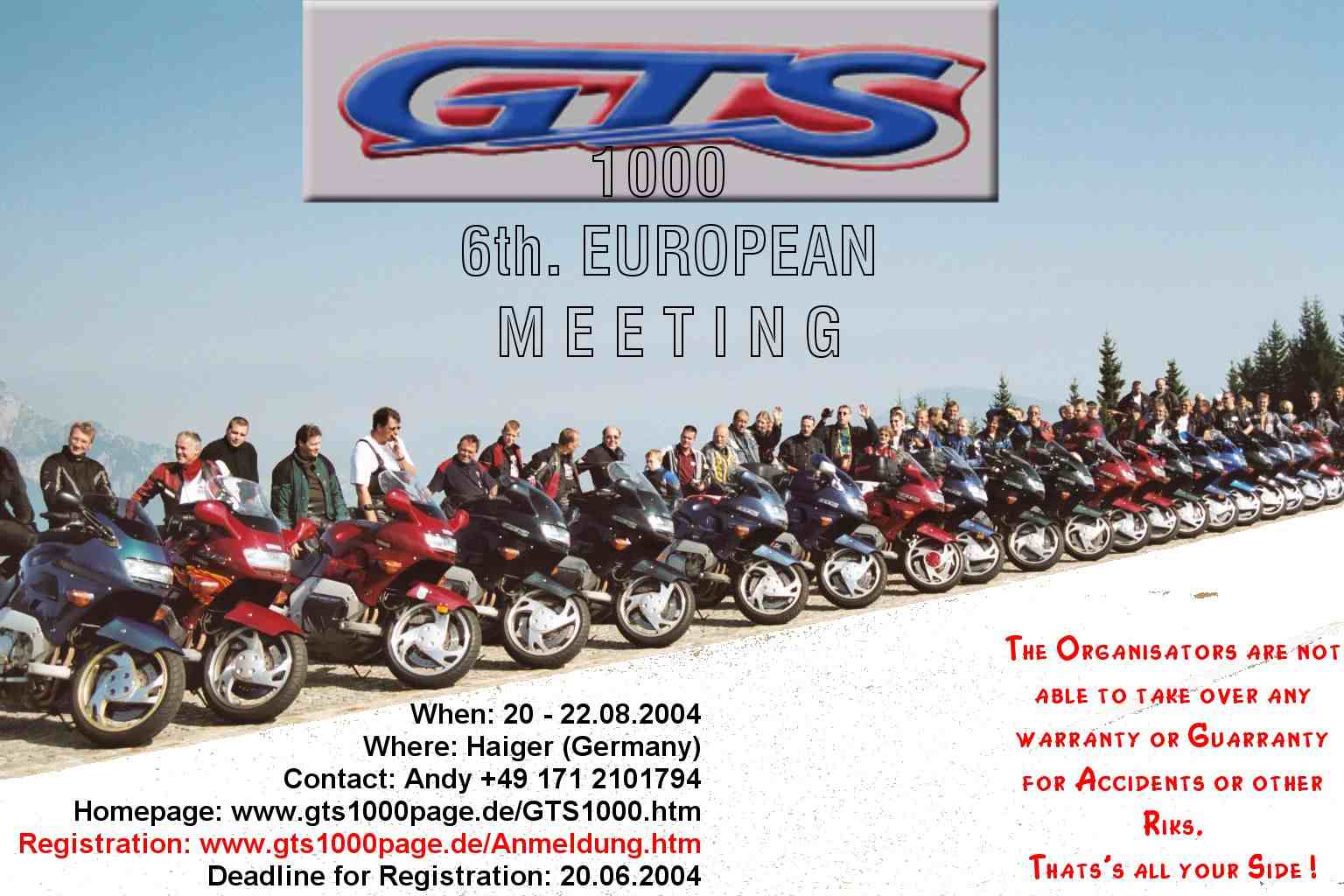 The meeting of the stub axles took place this year August. It was aimed by Arno in Haiger (district of Flammersbach). Haiger lies at the Sauerland line, or also A45, connection point "Haiger/Burbach"...
A large part of the participants had taken a room at Hotel Tannenhof directly at the events. Some did this still afterwards on Saturday evening, after Peter with all power had test the bad weather ability of the tents. Unfortunately, some things dry till then fell victim to the rain then.
However, after the row. On Thursday and Friday spun the participants so bit by bit and the parking arae was filled with GTSsen and other Bikes but the stub axles put unambiguously the superior strength. If my information is right we had 63 GTSsen. However, 99 had announced themselves from whole Europe (!!). But the last third has probably deterred the weather. We had to deplore in our EFI, called Picasso, unfortunately, the loss of the front fender. It was clear: one day before new tyres, everything in hectic rush, the safety standards authority does not wait. And in this hectic rush i do not fasten enough the screws and the part has said goodbye with 170 km/h on the A45 shortly before Siegen. I never see it again. Luckily there was Helmut who brought a red part to me. The spraying is a winter work.
Then Friday morning was announced for some incl. me already for "technical service". Paul Matthiasen had arrived from denmark together with family and his complete equipment to the adjusting of the EFI. In Denmark they call him only reverentially "Dr. GTS". Picasso is another Bike after his adjustment. No jerking anymore, clean acceleration and the nicest one: The consumption has perceptibly gone back. Then from Volkmar, Arno's neighbor, I still let insert a warning flashing arrangement. A really sensible investment. Nevertheless, Pauls services have taken up many couples and they are guarantees as gladly as I.
Friday evening we had a great Party and quite a lot of Alcohol goes the biological Way.. For me it was an especially nice evening, because after 2 years of abstinence it was very good to see the whole comunity again .
The Saturday began with a look out of the window to the sky. Well, still goes... Then at 10.00 o'clock marching up and the round tour under the direction of Arno began. You can download the route as an Excel file here . The tour ran up to some small showers and the thing with Arno's daughter (you know it all), normally. Well if one refrains from the attacks of the snake. But this must remove everybody with itself. It was held for refuelling and for a photo or smoker break. We had Lunch in a bar called "Brüdermühle" in the form of shred with chips. And then the Heaven is broken. The whole return journey to Flammersbach the Rain did not stop. Then some guys have seperated from the group, that was not so nice. We are gone together and we come back together. Briefly after we were back it really held on to be raining. God shall be praised. Unfortunately, that was already too late for some tents or their contents... In the evening the party was done again. Arno had got from Yamaha thus something in T-shirts etc. what was auctioned then in favour of by "MehrSI ". On this occasion, it concerns a charitable association whose purpose it is to be provided all distances with an unterdriving protection under the guardrails where it is urgently necessary. It was also an employee of "MehrSI" with us and justified itself to us. I hold this association for a great thing and have become a member in the same evening. Nevertheless, looks sometimes with those on the homepage purely. It is worthwhile. Cups were awarded for the farthest journey (went to England), the oldest participant, the oldest participant (he went in Arno's daughter on account of her mishap) and the nicest bike (went to Dirk Nitsche for his blue GTS enlightened by Honda). Then the evening further went with music and dance, a lot of laughters and a very good turnover in the beer car.
Der Samstag begann dann mit einem Blick aus dem Fenster zum Himmel. Naja, geht ja noch... Um 10.00 Uhr war dann Aufmarsch und die Rundtour unter der Führung von Arno begann. Die Route könnt Ihr hier als Excel-Datei downloaden. Die Tour verlief bis auf einige kleine Schauer und die Sache mit Arno´s Tochter ( Ihr wisst es alle ), normal. Naja, wenn man mal von den Attacken der Schlange absieht. Aber das muss jeder selbst mit sich abmachen. Wir sind alle erwachsen, gelle? Es wurde zum Tanken und für eine Foto- bzw. Raucherpause gehalten. Mittag gab es dann für alle in einem Lokal namens " Brüdermühle" in Form von Schnitzel mit Pommes. Und da fing es dann an zu schütten was ging. Es hörte die gesamte Rückfahrt bis nach Flammersbach nicht wieder auf. Einige haben sich dann von der Gruppe abgesetzt, was ich persönlich nicht so nett fand. Wir sind zusammen los und kommen zusammen an. Es war jedem klar das das Tempo bei der Menge an Motorrädern nicht hoch sein kann. Mag sein das ich mit dieser Meinung allein stehe. Damit kann ich aber sehr gut leben. Kurz nachdem wir zurück waren hielt es dann tatsächlich auf zu regnen. Der Herr sei gepriesen, er hat ein Einsehen. Leider war das für einige Zelte bzw. deren Inhalt schon zu spät... Abends wurde dann wieder kräftig Party gemacht. Arno hatte von Yamaha so einiges an T-Shirts usw. bekommen, was dann zugunsten von "MehrSI "versteigert wurde. Hierbei handelt es sich um einen gemeinnützigen Verein, dessen Ziel es ist all die Strecken mit einem Unterfahrschutz unter den Leitplanken zu versehen, wo es dringend erforderlich ist. Es war auch ein Mitarbeiter von "MehrSI" bei uns vor Ort und stand uns Rede und Antwort. Ich halte diesen Verein für eine tolle Sache und bin am selben Abend Mitglied geworden. Schaut doch mal bei denen auf der Homepage rein. Es lohnt sich. Es wurden Pokale vergeben für die weiteste Anfahrt ( ging nach England ), den ältesten Teilnehmer, die älteste Teilnehmerin ( der ging an Arno´s Tochter aufgrund ihres Malheurs ) und das schönste Bike ( ging an Dirk Nitsche für seine blaue, von Honda erleuchtete GTS ). Der Abend ging dann weiter mit Musik und Tanz, viel Gelächter und einem sehr guten Umsatz am Bierwagen.
Then, unfortunately, on Sunday the home ride began for many again. We have still turned with some bikes an actually GPS-controlled round. When this degenerated then, however, briefly into a city tour and later into a mountain bike tour, we resolved to use the good, old maps again. Then in the evening we have still sat in comfortable round with Arno.
Monday morning the GO also came for us. It was a brilliant week-endwhich finds a continuation hopefully in the Black Forest next year. If possibly, however, without rain...
You can download a video of the start of the exit here and here . But think, these are 44Mb (!!!). 56K modem user should do meanwhile the washing or food cooks etc. ...;-)) at this point a hearty thankyou to the direction and to Leslie.
And here the map to the tour, provided by Arno:
(Sorry, CENSORED!!!)
Pictures from Dieter:
I´m the Boss
Microsoft again?
Pictures from Andreas:
My Pictures:
Da fehlt was.. Da flog was.. Erhöhung der Sicherheit: Einbau Warnblinklicht Snake
"Dr. GTS"(mitte)
Don´t shoot me II Da redet der Tankwart heute noch von... Smoking impossible
Aaaaaahhhhh, finally, a smoking or in such a way... Pizza-Express? A german Giant? The Moderator
Dirk´s Pot for the nicest Bike The Oldest To first ... ... and sells

Do you bring beer?
Pictures from Markus: