GTS 1000 - Meeting 2001
The meeting in 2001 took place from the 31.08 to the 03.09.2001 in "Haus Vilstal" in Pfronten/Allgäu. 17 GTS 1000 from completely Germany, Switzerland and the USA appeared there. The field was completed with a Thunderace and a XS 1100. The mood was great and could not be also clouded by the completely rotten weather on this week-end.
The Pictures:
The marching up begins. After a humid-happy night in the restaurant of the pension the group took installation for the first exit...
Departure Group picture by motorbike The principal characters Silvretta - Mautstation Wet-Talk at Silvretta
Big tour break on Saturday at Gasthof Sonnenkopf in the Faschinajoch, we also had to wait for a few "scattered" participants.
Plan view Coffee, tea and cake, a little soup maybe and gasoline conversations...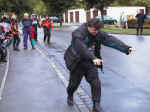 A solar dance? If nothing was useful.
Remains only to hope which we have in 2002 in Schinkel with the weather more luck...