<![if !vml]>
<![endif]>

<![if !vml]>
<![endif]>

<![if !mso]><![endif]>

<![if !vml]>
<![endif]>

<![if !mso]><![endif]>

<![if !vml]>
<![endif]>

<![if !mso]><![endif]>

<![if !vml]>
<![endif]>

<![if !mso]><![endif]>

....up to now participate:






<![if !vml]>
<![endif]>

<![if !mso]><![endif]>



<![if !vml]>
<![endif]><![if !mso]><![endif]>

The whole circus moves forward from the Netherlands to Schleswig-Holstein, Germany.

The GTS community will meet there in Wangels, a small town near Oldenburg/Holstein.

Beautiful beaches are only 5 (motorcycle riding) minutes away.

In and around apartment complex Stern will be the gathering in a big marquee.

People who want to go camping are also taken care of,

a big field near the apartment complex is at our disposal.

Sanitary facilities of the apartment complex are at the disposal of the campers.

<![if !vml]>
<![endif]>

<![if !mso]><![endif]>

With the landlady Sandra "all in" prices have been agreed upon:

The weekend from Friday till Sunday will cost you:

Apartement per Person 98 €uro.

Camping per Person 58 €uro.

The prices include:

2 x overnight stay

2 x breakfast

1 x barbeque complete with all trimmings on Friday evening.

1 x "Holsteiner Buffet" all kinds of meats and fish.

All further costs like; permits, camping-ground, etc.

Of course all (moderately priced) drinks and food during the tour are separate.

So is the petrol of course!!!

Because the meal Saturday evening is substantial,

The lunch during the tour will be at a cafeteria.

The tour is planned so that we will be back around 17.00 hours, this will give you the possibility for a visit to the beach.

All further details will be announced in due time

If you make a booking at the apartment complex or for camping, please make sure you mention you are there for "GTS 1000 Meeting 2007".

All bookings direct to apartment complex Stern, all you have to do is call..

Sandra, the landlady, will take care of everything.

Staying in the apartment complex before and after the meeting is possible at regular apartment rate and availability.

Try to book in groups to make sure of best possible use of each apartment.

Here is the address:

Appartmenthaus Stern · Birkenweg 2 · 23758 Wangels, Germany
E-Mail: appartementhaus-stern@123q.de

Internet: www.weissenhaus.de
Tel: 0049-4382-9207048 oder 0049-172-4355016 · Fax: 0049-4382-920489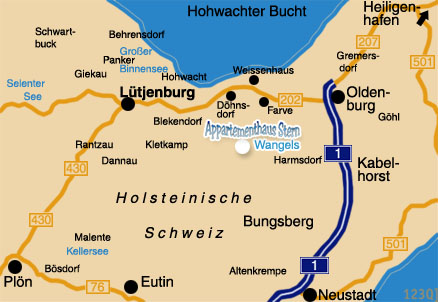 ... This is how you get to the meeting:
from the A1, exit Oldenburg in Holstein-Süd -
towards Kiel (B 202) – after appr. 5 km go left
towards Hansühn-Wangels (at this exit the "Farver" mill is at your left)
In Wangels: follow the main road.
Because of experiences made at the last meeting, where many registered, and didn't show up, the organisation has decided that all registry fees must be paid up front.
This to ensure that all costs made by the organisation are covered.
As always, all proceeds of the meeting will go to a good cause.
More details will be available in the near future on this Site
GTS Meeting registration page link below.
Many thanks to Chris, the flying GTS-Dutchman for translation